¾
---
Enroll Now For Free Demo Classes:-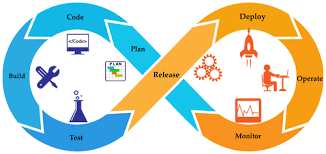 Contact Us:-8340901901
Online and Offline Classes Available
Devops training in Ameerpet:-
Devops training in Ameerpet. Very scratch level to advance level Devops certification online training.and Delivers Real-Time and Placement Oriented devops online Training in Ameerpet By Real time Projects With real time Experts Devops online Course Training Institute in Hyderabad with 100%Placement assistance
Online Training and Classroom Virtual Classes:-
Best Devops Online and Offline training Available With live Projects
By Real time Projects With real time Experts by industry Level
DevOps Training in Hyderabad with 100% placement assistance
Devops online Training solid fundamental knowledge on core concepts with a practical approach
Devops courses from top universities and industry leaders. Learn Devops online with courses like and DevOps Engineer with Google Cloud.


About DevOps Training in Hyderabad:-

This DevOps Training is to make an individual expert .This Course is Provided by the Real-Time professionals to make you understand the Real-Time IT Scenario's and Problems.and Real time Projects With real time Experts by Industry Level,DevOps Training deployment, software development operations, continuous integration, automation of learn the various tools like Git, Docker, Jenkins, Nagios, Puppet, Ansible and Kubernetes.

DEVOPS

(BUILD AND RELEASE MANAGEMENT- AUTOMATION EXPERT)

 COURSE CONTENT:-

Don't just learn tools, Learn to implement them in Real Time.
Don't just write "Hello world" programs. Write the automation code like a professional and Do it like a Real timer.
Automate the entire infrastructure implementation.
Learn Continuous Integration and Continuous Delivery as it's done in Real Time.
We will cover 7 major Real-time scenario-based Automation projects with the Help of CI / CD.


Objectives of the Course:-

To understand the DevOps Concepts and DevOps Tools

Deploying the main DevOps tools

To implement automated system update and DevOps lifecycle

To understand virtualization and performance
Providing the perfect security for the entire infrastructure


Devops Training Course Overview:-

Best Institute of Ganatech Solution is Devops Training in Ameerpet Hyderabad Offered by Certified Professionals. This Devops Course will lead you to master in Devops Tools like GitHub, Jenkins, Tomcat, NEXUS, Puppet, Buddy, Cucumber, Docker, Sonar Qube, CHEF , ANT, Maven, Teamcity, Nagios and Ansible with Live Projects. Enroll for Devops Training, a trending field within the Software Industry that helps Software Developers and IT Operation Admins to form and Deploy Projects in an efficient manner. Become a Devops Certified Engineer from our Devops Classroom and Online Training in Hyderabad

Ganatech solution DevOps training in Ameerpet  is your complete learning opportunity to master various aspects of DevOps implementation. You will work toward integrating the IT Development and IT Operations departments in a software setup. The training includes collaborating, communicating, and automating key processes and systems to create synergies in enterprises.
DevOps Life cycle  :
Push code
Fetch Changes
Run Unit Tests
Build Artifacts
Storing Artifacts
Provision Environments
Deploy your Builds
Run Load and Functional Tests.
DevOps Introduction  :

Understanding Development
Development SDLC : Waterfall & Agile
Understanding Operations
Devops
What is DevOps
DevOps SDLC
Continuous Delivery model
DevOps tools for DevOps SDLC
DevOps Roles & Responsibilities

MAVEN( BUILD TOOL):-

                                             

Introduction to Maven
Installing maven
Maven with Java based projects with project object model.
Analysis of POM.xml
Validating POM.xml
Maven life cycle (default, clean, site)
Working with Maven goals
Generating war/jar/ear file
Generating reports.
Integrating with Jenkins , SonarQube , NEXU 

TOMCAT (WEB SERVER) :-   

Installation and Setup
Deploying war files into TOMCAT
Creating users in TOMCAT
Changing port number of TOMCAT
Starting and Stopping the TOMCAT service
Integrating with Jenkins for automatic deployments.

JENKINS (CONTINUOUS INTEGRATION AND CONTINUOUS DELIVERY / DEPLOYMENT TOOL)

Introduction to Jenkins Build Automation   
Installing and Configuring Jenkins
Creating and working with Free Style Projects
Introduction to continuous integration.
Build & Release and relation with DevOps
Understanding deployment and developers
Why Continuous integration
Jenkins introduction and setup
Jenkins projects/jobs
Jenkins plugins
Jenkins administration:
Users
Nodes/slaves
Managing plugins
Managing software versions
Configuring Jobs

SCM
Building Triggers
Git Hub Web Hooks
Executing Shell Script
Post Build Actions

Maven Project creation, configurations and Builds
Build Pipe Lines
Pipe line as a code
Declarative Pipeline
Scriptive Pipeline

Ansible AUTOMATION (CONFIGURATION MANAGEMENT TOOL):

Ansible                                                                                         
Configuration Management & Automation
What is Ansible & its features
Ansible setup on local & cloud
Understanding Ansible architecture & Execution
Inventory
Ad hoc commands: Automating change Management with Ad Hoc commands
Playbook Introduction
Ansible configuration with ansible.cfg
Ansible documentation
Modules, modules & lots of modules
Writing playbook for web server & DB server deployments
Tasks
Variables
Templates
Loops
Handlers
Conditions
Register
Debugging
Ansible Roles
Identify server roles
Roles structure
Creating, Managing and executing roles
DOCKER (CONTAINERIZATION)

:_

Introduction to Virtualization and Containerization

Installing Docker Engine
Docker Fundamentals
Working with Images
Creating New Images and Exporting to Docker Hub

Find Images
Download Images
Remove Images
Working with Images
Creating, Configuring and Managing Docker Containers
Installation and Set Up of Webservers like Apache, Tomcat, Nginx in Docker Containers
Installation and Launch of Jenkins in Docker Container
Creating New/Customized Images from an existing container/image
Move, Backup and Restore Images
Docker Integrating with Jenkins

SonarQube ( CODE QUALITY TOOL):

Why SonarQube and purpose of SonarQube                   
Installing and setup of SonarQube
Continues Inspection of Code.
Code coverage of the java code
Code reviewing the java code
Bugs, vulnerabilities and code smiles
Quality Gates
Major issues, minor Issues and Blocker Issues
Integrating with Jenkins

Nexus (Artifactory):- 

Why Nexus and Purpose of Nexus.                         

Installation and setup of Nexus
Creating the repositories in Nexus
Updating the repositories information in POM.xml
Creating the users in Nexus
Integrating with Jenkins
Taking the Backup of war files.

KUBERNETES (container orchestration tool) :

What is Kubernetes and Purpose of Kubernetes.                     
Kubernetes Architecture.
Configuring the Kubernetes cluster
Installing the Kubernetes and setup of k8's Master and Worker Nodes.
Creating pods
Creating services
Creating deployments
Creating Replica Sets.
Kubernetes Integrating With Jenkins
Kubernetes as Pipeline as a code.
BASH – SHELL SCRIPTING:-
Shell scripting for scenario based like                         
HOW TO FIND LOG FILES AND DISPLAY ERRORS AND EXCEPTIONS
DISPLAYING CONTENTS OF A FILE
TO CHECK WHETHER THE FILE EXISTS OR NOT
HOW TO FIND FILES/DIRECTORIES WHICH ARE OLDER THAN X DAYS
SCRIPT FOR PINGING OTHER SERVERS AND MAILING IF THEY ARE UN REACHABLE
SENDING EMAIL WHEN MEMORY IS LESS
SENDING EMAIL WHEN DISK SPACE IS LESS
SENDING EMAIL WHEN MEMORY IS LESSWe offer the best  Devops training in Hyderabad with real-time projects and with the assistance of industry experts. Our Devops training Course is very informative and job oriented. This Devops course content is designed by professionals and working experts with hands-on real-time Knowledge. The course syllabus covers all the topics from basic to advanced level and it is helpful to get the placement in any MNC companies.Best Devops  Training

Get enrolled for the most demanding skill in the world. Devops  Training course will make your career a new height. We at Sri Vidya technologies provide you an excellent platform to learn and explore the subject from industry experts. We help students to dream high and achieve it.

What is a Devops?

Devops is an online platform that provides scalable and cost-effective cloud computing solutions.

Devops  is a broadly adopted cloud platform that offers several on-demand operations like compute content delivery, etc., to help corporates scale and grow.